Chamber honors many, including Citizen of the Year Harold Brubaker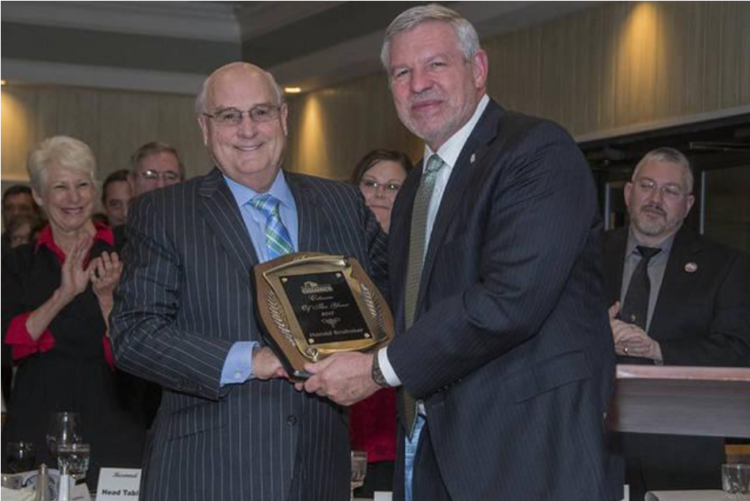 The Asheboro/Randolph Chamber of Commerce 92nd Annual Meeting, held at Pinewood Country Club Friday, celebrated a stellar year for the chamber and the community.
After a successful membership drive in the spring that brought the chamber 98 new members, its membership continued to grow, eventually bringing it to an all-time high of 755 members. The Asheboro/Randolph Chamber is now the fourth largest chamber in the Triad.
The Pigs & Pedals event was expanded to include a partnership with Zooland Antique Car Club as well as a People's Choice event during the barbecue competition. The Field of Honor was also expanded in 2017 to include 200 more flags for a total of 700, which were again displayed at South Asheboro Middle School for Veteran's Day weekend.
In September, Chelsey Butler joined the chamber staff after a new full-time position was added to the organization. Butler serves as the membership and events coordinator.
2017 Chairman John Revell began the night's program by recognizing retiring board members Baxter Hammer of The Timken Company, City of Asheboro Mayor David Smith and Malynda Shumaker of Markham Metals, Inc.
Volunteer of the Year
Amanda Varner, 2016 recipient of the Volunteer of the Year Award, presented the 2017 award to Myra Gaddy.
"Because there are not many events throughout the year that this person misses, you notice when they are not there," Varner said before announcing Gaddy. "The truly remarkable thing about our 2017 honoree is that we share her with other organizations, too."
Varner listed another 17 organizations for which Gaddy volunteers. Gaddy has also been employed by Randolph County Sheriff's Office since 2001.
"I'm humbled and honored," Gaddy said. "I've always said, Randolph County is the the best place to live, work and do business."
Small Business of the Year
Matthew Smith, 2017 vice president of membership development, and the chair-elect for 2018, presented the awards for small, medium and large business or organization.
In his introduction of the Small Business of the Year recipient, Smith said, "Each year they support local causes like Hospice of Randolph County, Randolph County and Asheboro City Schools, the Special Olympics, and Motorcycles for Mammograms. As an anchor business in downtown Asheboro, they also actively support community events put on by the Downtown Business Association, the City of Asheboro and the Chamber of Commerce."
Mary Ann Yow and Barbara Gallimore, owners of The Flying Pig with their husbands Barry Yow and Dennis Gallimore, accepted the award for 2017 Small Business of the Year.
"We wouldn't be here if it weren't for the people in Randolph County, our tourism development and other businesses. Thank you," Gallimore said.
Medium Business of the Year
The 2017 Medium Business of the Year was described by Smith as one that has been recognized for outstanding achievement in its industry since it was founded.
"Eight different members of their team have served as president in their industry's local peer association," Smith said. "Between the business owner and her team, there are five Rotarians, several active chamber volunteers including one board member, active members of the American Cancer Society, Randolph Community College Foundation, the Randolph County EDC, the Civitan Board, Kiwanis, the Greensboro Regional Realtors Association Board, both the residential and commercial boards, several church boards and countless others throughout the county."
On behalf of RE/MAX Central Realty, Owner Vickie Gallimore and her husband H.R. accepted the 2017 Medium Business of the Year Award.
"Thank you so much," Vickie said. "We have the best group of agents in town and we love serving you."
Large Business of the Year
The 2017 Large Business of the Year award was presented to an organization that first opened its doors in 1959. Having started out as a very modest owner-operated business, Clapp's Nursing Home & Mountain Top Living has grown to become a large company with 165 employees under the ownership and direction of the family's third generation.
"We are lucky here in Randolph County to have a place where loved ones can go and yet be very close to family; a place that puts quality care and lifestyle first," Smith said.
Accepting the award on behalf of Owner Denise Clapp was her father, and previous owner, Don Clapp.
"I just want to thank my family and all the help we've had over the past 60 years. Thank y'all," Clapp said.
Emerging Leader Award
The chamber's first Emerging Leader Award recipient, Joel McClosky, presented the 2017 award, which recognizes young leaders and encourages them to keep making a difference in Randolph County.
Rather than a plaque, the Emerging Leader Award recipient receives a modest trophy and a card advising that a donation equal to three months of food for a Backpack Pal student has been made in his or her name to Randolph County Communities in Schools.
McClosky presented the award to Zac Beane, an Asheboro Blue Comet who enjoyed sports and music, and an Appalachian State Mountaineer. The young leader is also a former member of the country band "Norlina," currently serves as music director at North Ridge Church, and is a vice president at Martinez and Associates, Inc. Insurance Agency.
"His natural compassion and desire to serve others makes the insurance industry a great fit for him," McClosky said.
"I'm proud to have been born in this community and continue in this community and to give it a chance as my future," Beane said. "It's an honor to serve and to sit down with people like Joel."
ATHENA Award
Vickie Gallimore, 2008 recipient, and Dr. Cindy Schroder, 1997 recipient, jointly presented the 2017 ATHENA Award to Reverend Lynda Ferguson.
"The award is presented to someone in recognition of their professional excellence, community service and for actively assisting women in their attainment of professional success and leadership skills," Gallimore said.
Ferguson, in partnership with her church and Communities in Schools, began a community garden, which provides food for families through Backpack Pals, Our Daily Bread, various shelters and Central Asheboro Boys & Girls Club. She began both a food pantry and clothes closet at her church and also mentors women who are considering entering the ministry.
"Since arriving to Asheboro less than four years ago, she has led her organization to grow to meet faith and humanitarian needs in the community," Schroder said.
"I am humbled and I am grateful and to God be the glory," Ferguson said. "Just to do God's work every day is just a huge blessing."
Citizen of the Year
2016 Citizen of the Year James Gouty served as presenter for the 2017 award.
"Unlike others recognized in the past, our honoree this year has not only assisted Randolph County, but he's done a lot to benefit all of North Carolina due to his unique background," Gouty said.
The 2017 Citizen of the Year, Harold Brubaker, began his political career when he was elected to the state legislature before the age of 30. Brubaker went on to become the first and only Republican Speaker of the North Carolina House in the 20th century. In that role, he was known for his bipartisan leadership, which led to the biggest tax cut in North Carolina history, significant regulatory reforms and the largest teacher pay increase in state history, which was passed during Governor Jim Hunt's administration.
Brubaker served as National Chair of the American Legislative Exchange Council, and continues to serve a national leadership role on that board for over 20 years. Now retired from the legislature, he serves as one of the most influential lobbyists in the state.
"What a humbling experience to receive an award like this from your friends and, basically, family," Brubaker said. "Randolph County has been a great county and I had the great opportunity to serve you for 35 and a half years in the legislature … this is my home. This is my family."
Chairman's Award
During Revell's final duties as chairman, he surprised Membership and Events Director Amy Rudisill by honoring her with the 2017 Chairman's Award.
"With my sincerest thanks and gratitude, we present you the 2017 Chairman's Award in appreciation for your commitment to the chamber and our community, and for making us bigger and better," Revell said.
The evening concluded with the passing of the gavel to 2018 Chairman Al LaPrade.
"Our theme for 2018 is to Be Intentional, and Be Engaging," LaPrade said. "So I will be looking to you — our members — for support and advice so we can all continue to move the needle forward as a community."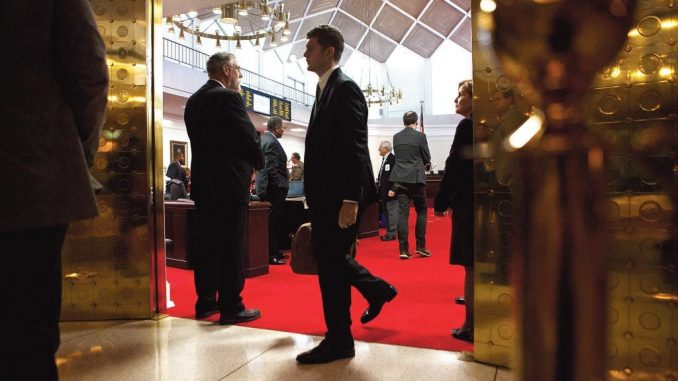 NC Senate Chamber The short session at the N.C. General Assembly was relatively short but packed full of policy and…